Most kids believe there is never a "good" time to get braces. However, if it is time to schedule a trip to the orthodontist, summer may be the way to go! Aside from the fact that everything is just a little more fun in the summer, here are some great reasons why you should consider getting braces while school is out…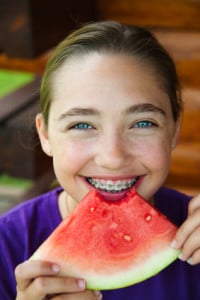 Schedules
No classes, no homework, and fewer sports commitments can make scheduling appointments a lot easier for kids and parents alike. When missing school isn't an issue, the possibilities are endless.
Adjustment Period
Adjusting to new braces can take some time, so summer is the perfect opportunity for one to get acclimated to their new smile. Less responsibilities, flexible schedules and the ability to be at home gives kids a chance to get used to their braces. Plus, it will be easier for them to deal with any initial discomfort, establish hygiene routines and have easy access to brace-friendly foods.
Better Food
We can all agree that summertime foods tend to be the best. Smoothies, popsicles, watermelon, fresh corn (off the cob), hot dogs, hamburgers, fruit salads, pasta salads, ice cream and apple pie are a few summertime staples. Did we mention are all brace-friendly? Just remember to avoid sticky, crunchy or hard foods.
Easier Transition to Fall
By the time schools starts in the fall, kids will be pros at having braces. The adjustment period will be over and appointments will be already set. For those playing sports, be sure to get kids fitted for a brace-friendly mouth guard and spend some time getting comfortable with it.